Stock Code:

2201011S
Ridgegear 60mm Aluminium Double Action Scaffold Snap Karabiner (RGK11)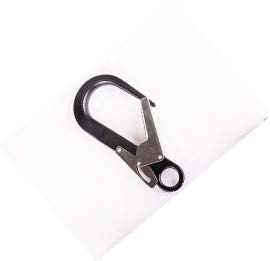 Stock Code:

2201011S
Ridgegear 60mm Aluminium Double Action Scaffold Snap Karabiner (RGK11)
Description
Stock Code: RGK11
The Product
Ridgegear 60mm Aluminium Double Action Scaffold Snap Karabiner
Overview
The RGK11 is an aluminium karabiner that is ideal for fall arrest lanyards and clipping on scaffold structures. The RGK11 features a large gate opening which allows it to clip easily onto things like steel/scaffold structures.
This karabiner has a double action snap closure which ensures that it cannot be accidentally opened, yet it can be quickly opened and closed when done on purpose.
This karabiner conforms to EN362:2004
Benefits/Features
This karabiner's double action snap closure prevents accidental releases when being used, making it very reliable to be used for important safety equipment like safety lanyards and fall arrest systems.
The MBS of the karabiner is 23KN.
The karabiner has a large gate opening of 60mm, making it very versatile in use – being able to be attached to equipment like lanyards as well as larger things like scaffolding.
Delivery
Orders placed after 1PM Thursday will be delivered the following Monday (excluding bank holidays).
Next Day Delivery if orders placed before 1PM
Saturday deliveries can be arranged, additional costs would apply.
Collect
You may collect this item on your own from our stock
Bulk Available
You may order this item in bulk, for this leave your query here , or call 0800 980 5130